Smart Snacking For a Healthy Smile: Strawberry Energy Bites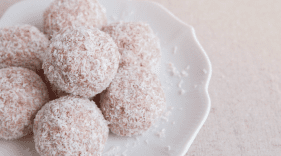 Most days, my kids make a beeline to the pantry after arriving home from school and daycare. As parents, we often struggle with finding foods that are healthy and that our kids will eat. Finding a smart snack that provides adequate nutrition and holds off the hunger pangs until I finish cooking dinner is a must in our household.
These strawberry energy bites balance your kid's pleas for a sweet treat while helping ensure a healthy smile. As an added bonus, they also make for a great mid-morning work snack!
The strawberry energy bites recipe first appeared in grin! magazine, a Delta Dental oral health publication. To view the full issue or subscribe, visit our website.