Beat the Thanksgiving Guilt – Healthier Thanksgiving Side Options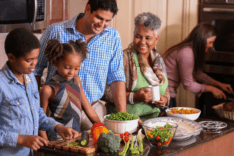 Thanksgiving dinner—the one time each year we justify eating until our pants can't button. Unfortunately, we aren't filling up on an abundance of fruits and vegetables. Instead, the Thanksgiving dinner table is usually full of fat, salt, and sugar. Avoid Thanksgiving guilt by keeping the turkey and swapping these two traditional dishes with healthier sides for Thanksgiving.
Sweet Potato Swap
Traditional sweet potato casserole is loaded with sugar, making it a dish your smile won't be thankful for on the festive day. Instead, opt for this healthier sweet potato mash.
Roasted Garlic & Rosemary Sweet Potato Mash
Ingredients
3 sweet potatoes
1 clove of garlic
2 tablespoons rosemary
1 cup milk (or milk alternative)
3 tablespoons butter (or butter alternative)
¼ cup grated parmesan
Olive oil
Salt and pepper
Instructions
Peel the sweet potatoes and put in a pot to boil for 20–30 minutes. Test tenderness with a fork and remove from heat when they're easily pierced.
Cut the top of the garlic clove off (enough to expose the open cloves). Drizzle with olive oil and wrap in aluminum foil. Bake at 400o F for 30 minutes. Tip: This step can be done the day before and kept in the refrigerator overnight if your oven is preoccupied on the big day.
Drain the potatoes. Mash with a potato masher or an electric mixer. Squeeze the roasted garlic cloves into the potatoes and mash until blended. Add 1/3 cup of milk at a time while mashing and 1 tablespoon of butter at a time.
Mix in rosemary, parmesan, salt, and pepper to taste.
Green Veggie Substitute
Classic green bean casserole is packed with salt, thanks to the cream of mushroom soup and fried onion topping. This green veggie replacement cuts down the salt and will pump up your taste buds.
Balsamic Honey Roasted Brussels Sprouts
Ingredients
1 ½ pounds of Brussels spouts
2 tablespoons balsamic vinegar
2 teaspoons honey
Olive oil
Salt and pepper
Instructions
Preheat oven to 425o
Trim the outer leaves of the Brussels sprouts. Cut the bottoms off and then cut lengthwise.
Toss with olive oil, salt, and pepper.
Place on a baking sheet and bake for 20 minutes, shaking the pan halfway through.
Tip: If the oven is taken on Thanksgiving, fry the Brussels sprouts in a cast iron pan for 8-10 minutes.
Transfer Brussels sprouts to a large bowl and add the balsamic vinegar and honey. Drizzle olive oil. Mix until they are evenly coated.
Looking for more healthy cooking tips? Check out our other smile-friendly recipes:
*Updated November 2021
In: