The Importance of Keeping Your Pup's Mouth Healthy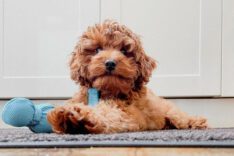 When we say that good oral health is the foundation for quality overall health, most people probably think this only applies to humans. But your dog's oral health is just as important in keeping them healthy and happy for the duration of their life.
Did you know that gum disease is the most common disease adult dogs have? By the time they reach this stage, it's already too late. That's why it's paramount that you start taking care of your dog's oral health as soon as you bring your new puppy home.
What To Look For
According to the American Animal Hospital Association, signs of dental disease are present in pets by age 3. This means you must get to work early in order to keep your dog's oral health on track as it grows from a little bundle of ears and paws into a key member of your family.
So what should you be looking for when it comes to dental disease or trauma? There are a variety of indicators that your dog may need to see a vet, including:
How To Treat Your Dog's Oral Health Issues
Now that you know what to look for, here are suggested some fixes. Your vet may recommend a number of specific ways to treat what ails your pup, including:
Scheduling a cleaning. Just like with humans, dogs should have regular dental check-ups to ensure their mouth is healthy. But unlike with people, pets require anesthesia for oral cleanings in order to protect them while making sure sufficient X-rays are taken and calculus and tartar are effectively removed, both above and below the gum line.
Removing problem teeth. If you're staying on top of your check-ups with your vet, you'll likely be presented with a tooth removal scenario following X-rays. But accidents do happen, so be sure to let your vet know immediately if you identify a chipped, cracked, broken, or missing tooth. It may be causing a lot of pain.
How To Maintain Your Dog's Oral Health
When you consider everything that goes into raising your puppy to be an obedient member of your family—training, recreation, treats, all the snuggles and pets—maintaining your dog's oral health will seem like a piece of cake.
Here are some steps you can take at home to keep your pup's mouth fresh and healthy:
Chews. While chewing unapproved items—like socks, shoes, the TV remote, or a hole in the floor—is discouraged, chewing is a natural part of a dog's life, and it can help keep their teeth clean as well. The abrasion on the teeth often helps remove plaque and tartar, and some specific chew toys and edible items for them to focus on, like rawhide and bully sticks, can take it a step further. It is important to avoid hard items like antlers and synthetic bones, as they can cause teeth to fracture or break.
Treats and Food. If you've ever owned a pup before, you're no doubt aware of the various treats and foods available for all your pet's needs. While some of these items can certainly be effective at reducing plaque and tartar, you should look for items specifically endorsed by the Veterinary Oral Health Council as they've been tested for safety and efficacy.
Brushing Teeth. You brush your own teeth twice a day and floss regularly, right? So why wouldn't you do something similar for your furry friend? While you don't need to do it twice a day, and you should definitely leave the floss far away from your dog's reach, you should be aiming for a daily brushing routine. It's the best, most direct way to remove debris from your pup's mouth. Just make sure you use dog-specific brushes/wipes and toothpastes. Toothpaste for humans can contain sugar substitutes like xylitol, which is essentially poison for your dog.
With a little extra care and work, maintaining your dog's oral health from their first sit at home to their last lick on the cheek will keep them happy, healthy, and free from dental pain. It will also keep you from shelling out any extra money for surprise oral surgeries and tooth removals. It's a win-win.