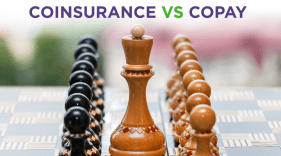 Have you ever worked at a job where your employer had you pick a benefits plan that fit your needs? This can be a wonderful perk — that is, if you understand what goes into picking an insurance plan. After looking at all the different packages, details can feel overwhelming. On top of that, choosing a plan that doesn't work with your lifestyle can cause your pocketbook (and savings) to take a hit.
That's why we encourage you to get familiar with concepts like the meaning of coinsurance and how insurance copays work. By fully understanding the ins and outs of your dental coverage, you can put it to work for you!
What is Coinsurance and How Does it Work?
What you hear the term "coinsurance" when discussing your dental plan, it refers to splitting the cost of dental work. Coinsurance will always be a percent of the cost of a service that is covered by your insurance provider, like Delta Dental of Wisconsin.
The actual dollar amount you pay and the dental insurance provider pays will change depending on:
Your specific dental benefits plan
The company with which you signed up
The type of dental work being performed
Whether or not your dentist is in-network with the dental benefits provider
Real-Life Example of Coinsurance
Say your dental insurance plan's allowed amount for a crown is $100 and your coinsurance is 20%. If you've met your deductible, you pay 20% of $100, or $20.
Still not clear on how coinsurance works? Think about coinsurance like splitting the check with your friends. You want to split it based on how much everyone ordered, so coinsurance is how you break down the check. When two couples share the check 50/50, then your "coinsurance" on the check is 50%.
Coinsurance may differ depending on the type of procedure that is being performed. An example of percentages covered by Delta Dental:
100%: Routine preventive and diagnostic care such as teeth cleanings and traditional dental exams.
80%: Basic procedures such as fillings, cavities, tooth extractions, and root canals.
50%: Major procedures such as crowns, implants, bridges, and bone graphs.
Be aware that a deductible — the amount you pay before your dental insurance kicks in — may apply to these services, although it can be waived in some plans for routine preventive and diagnostic services.
Important note: Coinsurance is your only out-of-pocket cost once you meet your deductible UNTIL you've reached your annual maximum. Remember, the costs and limits of each vary based on your plan's specific design. Log in to your plan portal or discuss with your HR department to find the details of your coverage.
*Updated 2019
Comments
comments
Tweets
Poll
Loading ...
Categories
Archives
Latest Posts
DD Wisconsin Blog
delta
delta blog
Delta Dental
delta dental blog
Delta Dental of WI
delta dental of wisconsin
delta dental of wisconsin blog
dental benefits
dental blog
dental health
dental insurance
oral health
Wisconsin
wisconsin blog